Best NABH consultant with 100+ customers & 5+ years experience
Complete documentation assistance for NABH Accreditation
Get NABH accreditation for Hospitals,Nursing Homes, Medical Imaging Services, Dental / Eye Care Centers
National Accreditation Board for Hospitals & Healthcare Providers (NABH) is a constituent board of Quality Council of India, set up to establish and operate accreditation programmes for healthcare organisations. The board is structured to cater to much desired needs of the consumers and to set benchmarks for progress of the health industry. The board, while being supported by all stakeholders including industry, consumers, government, have full functional autonomy in its operation.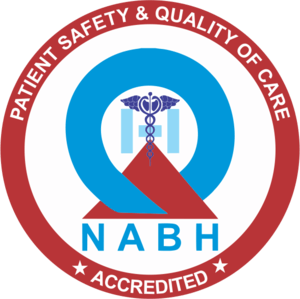 Why is NABH important for Ayurveda hospitals?
Benefits of NABH Accreditation 
Patients are the biggest beneficiary among all the stakeholders. Accreditation results in high quality of care and patient safety. Credential medical staff services the patients. Rights of patients are respected and protected. Patients' satisfaction is regularly evaluated.
Benefits for Ayurveda Hospitals 
Accreditation to an Ayurveda Hospital stimulates continuous improvement. It enables the organization in demonstrating commitment to quality care and patient safety thereby ensuring best clinical outcomes. It raises community confidence in the services provided by the Ayurveda Hospital as services provided by credentialed medical staff. It also provides an opportunity to the healthcare unit to benchmark with the best. An Accreditation status also provides marketing advantage in a competitive health care. Finally, accreditation provides an objective system of empanelment by insurance and other third party
Benefits for Hospital Staff
The staff in an accredited Ayurveda Hospital is satisfied lot as it provides for continuous learning, good working environment and leadership. Efficiencies and competencies of staff also gets improved in an accredited Ayurveda Hospital. It improves overall professional development, knowledge and competencies in systematic ways with defined ownership and accountability of all the staff including Medical and Para Medical Staff. 
Benefits to paying and regulatory bodies
Finally, accreditation provides an objective system of empanelment by insurance and other third parties. Accreditation provides access to reliable and certified information on facilities, infrastructure and level of care.
What Are the Advantages If Ayurveda Have NABH?
1.  Patients are the maximum essential receiver among all the stakeholders. 
2.  Accreditation takes interest mainly in patient safety. 
3.  Mainly the blessings of patients are honor and strength.
4.  In NABH Patient comfort is regularly assessed.
5.  Accreditation to an Ayurveda health center stimulates constant improvement.
6.  Accreditation lets in hospitals to reveal willpower to great care.
7.  Accreditation builds populace accept as true within the offerings provided by way of the 
     Ayurveda health facility.
8.  Accreditation also lets in the healthcare machine to benchmark with the quality.
9.  The personnel in an accredited Ayurveda medical institution is a glad lot because it fits for
      regular schooling, exact working situations, leadership and peculiarly use of scientific 
10. NABH Accreditation improves ordinary professional development
PROCESS OF NABH Ayurveda Hospital
The NABH accreditation for Ayurveda hospitals is a seven-step process. The following is a step-by-step procedure for getting NABH accreditation in India
Step 1: Application Submission to NABH
Firstly, the hospital should apply to NABH in the prescribed application form after implementing the NABH standards for a minimum of 3 months. The application form consists of the following information:-
Self-declaration of terms and conditions described by NABH

Self-assessment, as suggested by NABH 

Hospital manual/ quality standards as per prescribed NABH standards 

Relevant documents to be uploaded with the application
Step 2: Review of Application by NABH
After submission of the NABH application, the officers associated with NABH will scrutinise the forms and the attached documents. If any discrepancies are found in the form, the department will ask to rectify or explain them before granting accreditation. If the application is complete and fit, the department will issue an acknowledgement letter to the hospital along with a unique reference number.
The final assessment is carried out within six months of fee deposition in an onsite/remote/desktop or hybrid form. It includes a complete review of the functions and services offered by the hospital. The aspirant hospital must take necessary corrective action to rectify discrepancies or queries pointed out during the pre-assessment.
Step 4: Review of Assessment Report
After the final assessment, the principal assessor reviews the assessment report. The evaluation of the assessment report is based on the scoring based on a scale of 0, 5, and 10 as follows:-
Compliance with the requirement: 10

Partial compliance with the requirement: 5

Non-compliance with the requirement: 0
Conditions for qualifying for NABH accreditation include the following:-
All the regulatory/legal requirements should be fully met.
No individual standard should include more than one zero.
The individual standard average score must not be less than five.
The individual chapter average score must not be less than seven.

The final average score for all standards must be more than seven.
Step 5: Approval and Issue of Accreditation by Accreditation Committee
If the hospital fulfils the qualifying conditions for NABH accreditation, the accreditation committee approves and issues a certification of accreditation to the hospital within three months of the final assessment. The validity of the NABH accreditation certificate is three years.
Step 6: Reassessment and Surveillance
The NABH team will conduct regular reassessments and surveillance for the next three years after the issue of the certificate of accreditation. The hospital must apply for renewal of accreditation at least six months before the expiry of NABH accreditation validity.
State Wise Process For NABH Accreditation
Delhi

Haryana

Uttar Pradesh

Rajasthan

Punjab

And all states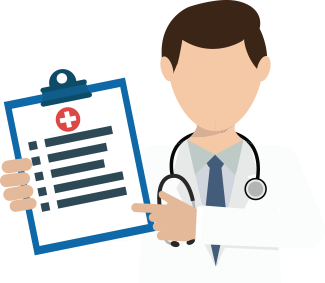 NABH has accreditation Required Documnets for:
Rent Agreement/ Ownership Certificate Registry/Khasra/Khatauni/Proof of ancensestor property/ If Property belong to family member then NOC from family member

Building completion certificate/property Tax

Blueprint as per gram panchayat/MCD or local authority as per applicable

Local Registration e.g clinical Establishment act/labour Registration 

Water Bill and Testing Report

AMC of bioengineering equipment e.g. b.p, Stethoscope

AMC of all Electronic Equipment with bills
Any Healthcare organisation (HCO) that fulfils the following requirements:
The organisation that commits to comply with NABH standards and applicable legal/statutory/regulatory requirements.
The organisation has the minimum volume of patients which will help in assessing the quality of care given to the patients, which is currently 30%
The Organization who aspiring to enhance the quality of their services for the benefit of their patients, employees, stakeholders
Why Sandhya Health Menia is the Best NABH Consultancy for NABH Accreditation.
Our NABH consultants have a proven record of 100% success rate in accomplishing NABH Accreditation for various healthcare organizations across the Country since 2010.
Our NABH consultants have an edge as they have successfully implemented  NABH accreditation programs  in India making Sandhya Health Menia the right choice for you.
To Maximize your NABH accreditation success, we offer a unique aftercare services known as "Accreditation Maintenance Program" (AMP) in order to maintain your NABH Accreditation compliance.
Team Sandhya Health Menia work as your partner, not just your consultant.
Team Sandhya Health Menia believes in working for a Quality Culture and not for just Quality accreditation
We have expertise in delivering modern healthcare trends and unique characteristics based on the requirement of NABH inspection standards and defend your organization weakness through rectification of threats and much more.
The NABH accreditation consultants of Sandhya Health Menia work together to comply with these standard elements through a process-driven approach to nourish all aspects of your hospital and healthcare activities — from registration, admission, evaluation of pre-surgery, peri-surgery and post-surgery and discharge.
We enhance the health system, quality improvement, and patient safety standards of our clients with allied protocols for NABH accreditation.
The NABH accreditation services of Sandhya Health Menia also focus on governance aspects because they play a crucial role in deploying the crystal-clear process-driven policies and protocols streamlining the entire operations of a hospital and health care organization.
Despite hospitals we have accredited the following Health care organizations with NABH  accreditation:
Top NABH Empanelment Consultant
We are one of the top agents/ consultants for empanelment with NABH. Our team includes doctors, healthcare professionals and certified quality consultants. Benefits of partnering with us include
NABH is short for National Accreditation Board for Hospitals and Health Care Providers. The objective to establish this board was to set a benchmark of standards, as well as to improve the quality of health care services in India. NABH also aims to provide easy access to healthcare for all classes of the population through various methodologies and tools. NABH registration, therefore, implies that the healthcare organization is accessible and also capable to improve its efficiency. And that the quality and operational systems are well-defined and implemented within the facility.
For organization , after Implementing the ISO Standards , the changes will be very distinct in terms of quality on following parameters -patient's safety, staff behavior toward the patients, correct and timely treatment, compliance to treatment protocols, seeking patient feedback, adequate response to it, complete record keeping, acceptable quality care at affordable prices, clear communication to the patients with respect to the services, best practices for fixing appointment and service delivery, reliable diagnostic and laboratory support, reliable support services like canteen, ambulance, pharmacy, etc. safe and pleasant environment, technical competence, courtesy, and attitude of staff.
NABH has various Accreditation standards for all kinds of set up. Smaller hospital can go for Entry Level Accreditation in the SHCO category.
There are Accreditation schemes for Polyclinics, Dental set , Eye clinics, wellness centres, AYUSH centres and many more!
The primary role of any accreditation standard is to provide effective means to assuring that the customer (patient) requirements are met fully.